Chopta - Tungnath - Chandrashila - Customized trip
Chopta
Verified Host
Logout's Trusted
Traveler's Choice
Camping

Couple Friendly

Himalayan Treks

History and Culture

Weekend Getaways

Wildlife
---
All About It
3 Days 2 Nights
25 Slots
For 10+ years
In the laps of the mighty Himalayas in the Garhwal region of Uttarakhand lies 'Chandrashila' – the summit of Chandranath Parvat. At an elevation of approximately 13,000 feet above sea level, the Chandrashila Summit is undisputedly one of the most sought after treks in Uttarakhand. With easy accessibility, it draws trekkers, photographers (Insta-worthy shots guaranteed!), tourists, wanderers, history enthusiasts, bird watchers or simply someone who is just searching for peace, tranquility and rejuvenation. The Tungnath temple of Panch Kedar, in particular, offers a mesmerizing panoramic view of the majestic Himalayan peaks like Nanda Devi, Trisul, Kedar Peak, Bandarpunch and Chaukhamba

This trek takes one through bewitching meadows and rich rhododendron trails. The scent of deodar trees envelops you – a veritable Bird Lovers/Watchers paradise. For those with a keen eye, you will definitely have a chance to spot some rare species of birds. So keep your binoculars ready

The grade of this trek is easy to moderate, and is definitely recommended for novice trekkers as well as experienced ones. It will most likely emerge as a perfect start to your lifelong tryst with the Himalayas.
Highlights
• Tungnath Temple
• Confluences at Devprayag and Rudraprayag
• Snow capped Himalayan Peaks: Nanda Devi at 7,817 meters, Trishul at 7,120 meters, Kedarnath at 6,831 meters, Bandarpunch at 6,316 meters and Chaukhamba at 7,138 meters
• Medium altitude trek with cavernous gorges
• Murmuring Waterfalls, lush green meadows .
• Glimpse of an ancient culture of local people
• Possible sightseeing of some wildlife ( Himalayan Monal , Brown Dipper , Kalij , koklass Pheasants , Laughing thrushes and Mountain Goats
• Accommodation in Swiss Tents
Chillout in the Camps
Confluence of Alaknanda and Bhagirathi.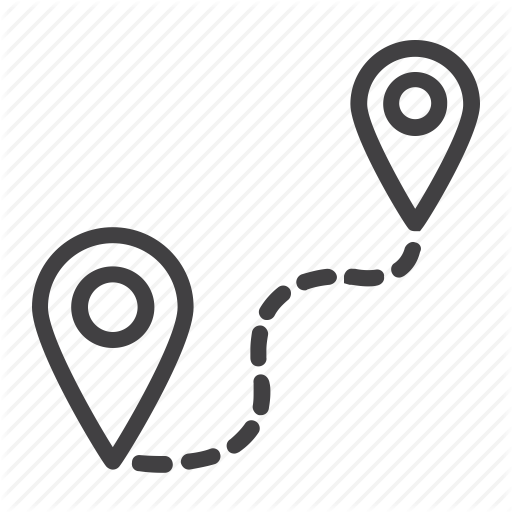 Private Vehicle
Dzire or similar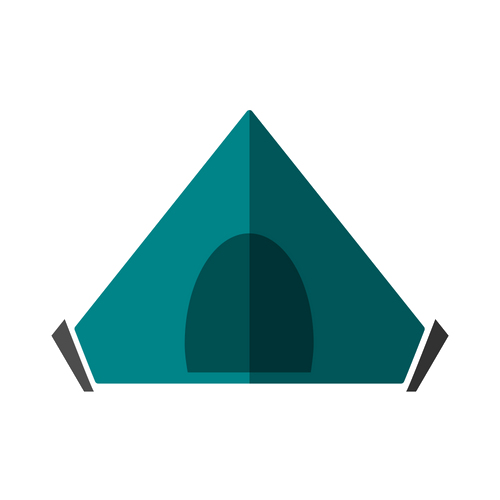 Tents
Swiss Camps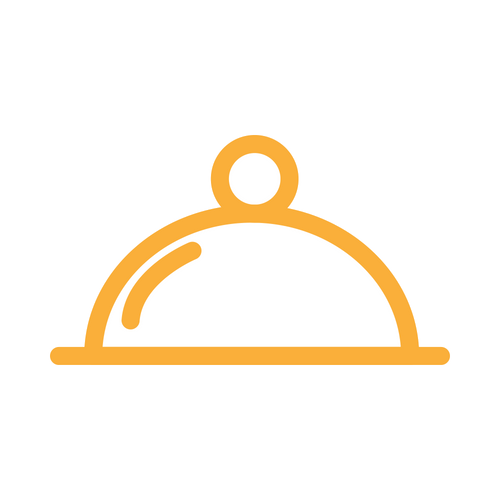 Dinner
The journey starts from Rishikeshi. Time is of the essence in a trekking experience. Route -We make our way through Devprayag, Srinagar, Rudraprayag, Ukhimath before reaching Chopta the following day. The journey that we buckle up for 8 hours of a little strenuous yet stunning mountain drive! Most part of the journey traverses the mountainside, with the river flowing below you. (Don't forget to take pictures at the confluence of Alaknanda and Bhagirathi rivers at Devprayag)
About 35 km after Rudraprayag, we take the road to Kedarnath. You will continue traveling on this road to arrive at Chopta via Agastyamuni (named after the famous saint Augustya and also a small market place for the vicinity villages) and Ukhimath (A tiny hamlet also known for being the winter seat of Kedarnath). The estimated arrival time is around lunch. Long journeys can be exhausting for some hence this fairly early arrival gives you time to relax and rejuvenate and for those not too tired from the journey it is a picturesque campsite, an eye candy for the shutterbugs. You can go around the campsite and explore the trails around. The forests around here appear like those straight out of a movie.
Early to bed and early to rise is definitely what we prefer. We advise our travellers to get proper rest before we get up, close and personal with Chandrashila also known lovingly as the Moonpeak the following day.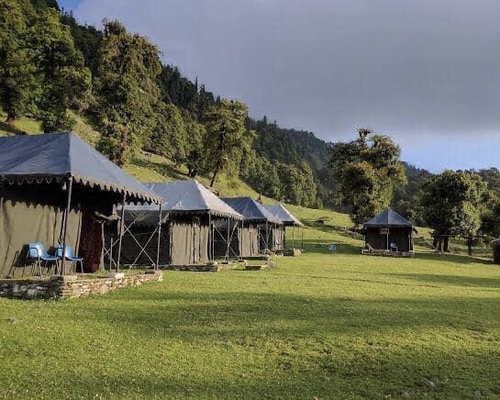 Parakeet's Nest Nestled in the laps of the enchanting meadows and the evergreen forest area of Chopta lies our quaint picturesque Nest.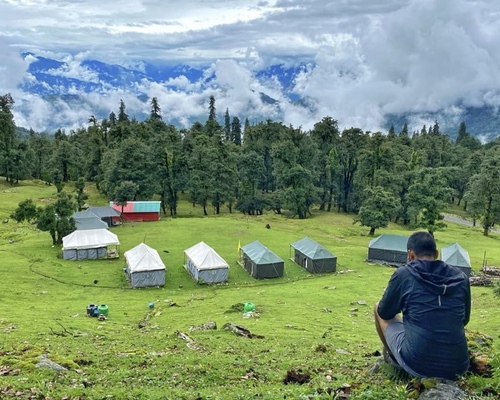 Our camp is inspired by our surrounding nature's enormity, mystery and enthralling beauty. An amalgamation of comfort, delight, adventure and ambience is what we aim to offer our travellers.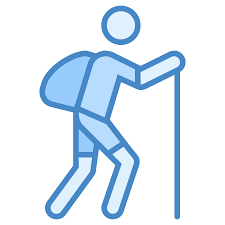 Trek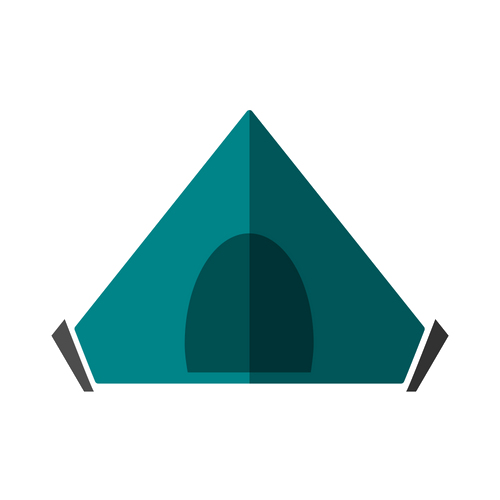 Tents
Swiss Camps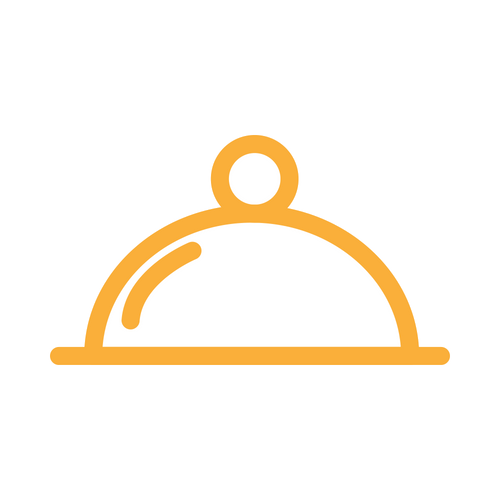 Breakfast, Dinner
Up, Uppity Up! As we gear up for the most enthralling day of the Deoriatal Chopta Chandrashila trek we attempt to climb the summit which is one of the most captivating and unparalleled of any summits that you might have witnessed. (If the weather gods permit). This reminds us there are various legends associated with this place. According to a popular folklore, this is the place where lord Rama meditated after defeating the demon-king Ravana. Another legend says that moon-god Chandra spent time here in penance. The trek from Chopta to Tungnath is approximately 3 km in distance and a further ascend of 1.5 km steep ascend leads to the summit of Chandrashila. The trail till Tungnath from Chopta is a well paved cemented trail and further from Tungnath to Chandrashila, the trail becomes a little rickety.
For those who are ardent lovers of history - The Tungnath Temple is one of the Panch Kedar temples and is considered the highest temple of Lord Shiva in the world. The legend states that sage Vyas Rishi advised the Pandavas that since they were responsible for killing their own kin the Kauravas during the Kurukshetra war in Mahabharat, their act could be pardoned only by Lord Shiva. Lord Shiva being miffed with Pandavas disguised himself as a bull. Parts of this bull appeared in 5 different places, each of these identified as a Panch Kedar. The Pandavas built temples at each of these locations to seek penance, worship, blessings and pardon from Lord Shiva. Tungnath is identified as the place where the hands were seen. The trek is pleasant but is a very steep climb. It ascends sharply towards the end.
You can also notice a change in the landscape due to an increase in the altitude. The tree line ends before Tungnath temple and after that, you may find only shrubs. It normally takes around 3 hours to reach the Tunganth temple from Chopta and another 1 hour to reach the Chandrashila summit from the temple. Once at the top of the peak, you get a panoramic view of the mountains of Garhwal and Kumaon. The Chandrashila Peak is at an altitude of 4000 meters above sea level. It offers perfect panoramic views of remarkable peaks of Uttarakhand such as Kedarnath, Mandani, Chaukhamba, Nanda Devi, Nanda Ghunti, Hathi, Ghodi, etc.
After capturing some beautiful shots at the summit, the trek back to Chopta is via the same route taken while ascending. It takes approx. 30 minutes to reach Tungnath and another 60 -90 minutes to reach Chopta from Tungnath.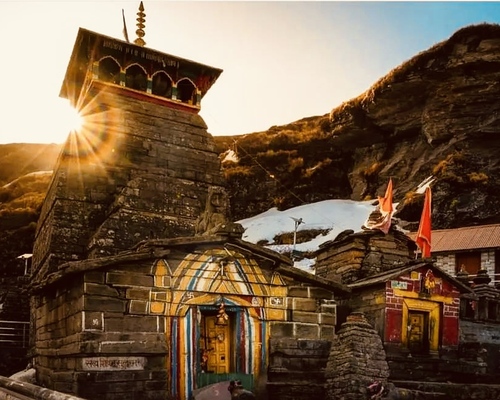 Tungnath is one of the highest Shiva temples in the world and is the highest of the five Panch Kedar temples.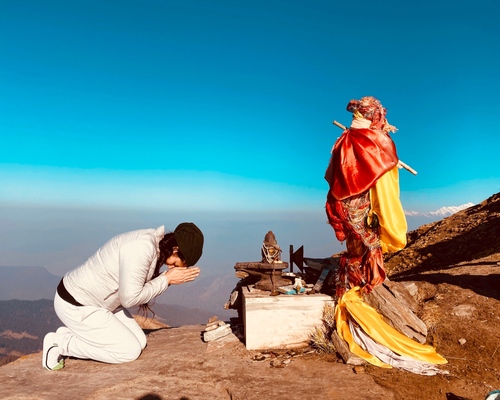 Chandrashila is the summit above Tungnath temple. It literally means "Moon Rock". It is located at a height of about 3,690 metres above sea level.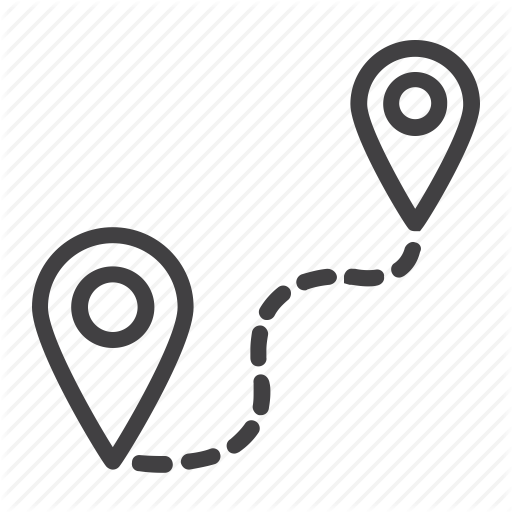 Private Vehicle
Dzire or similar

Stay Not Applicable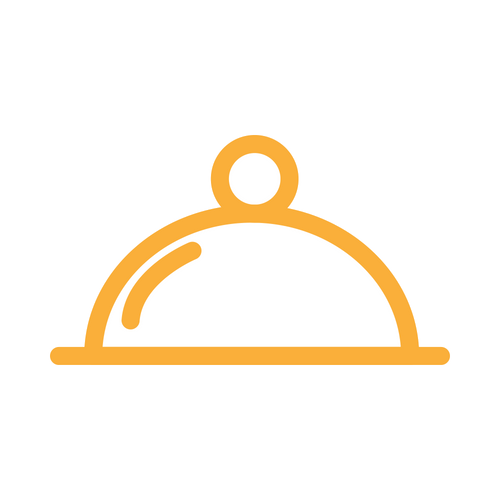 Breakfast
Post Breakfast, start your return journey to Rishikesh with your heart and soul full.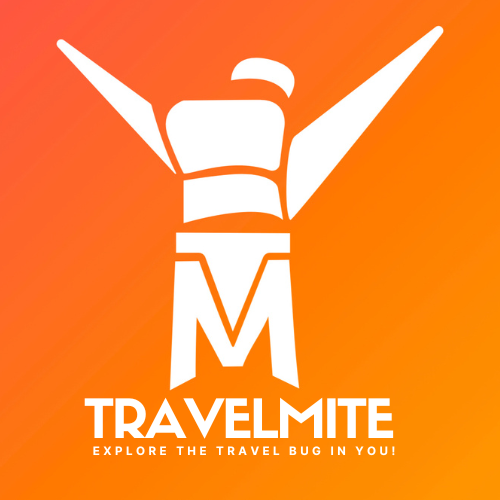 Hosted by
TravelMite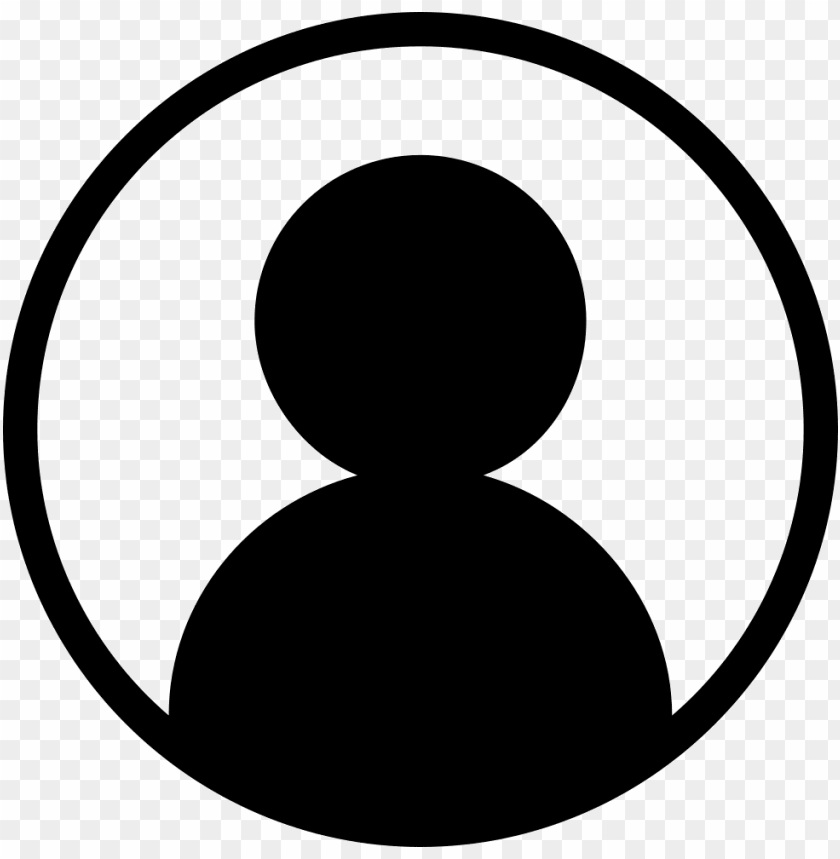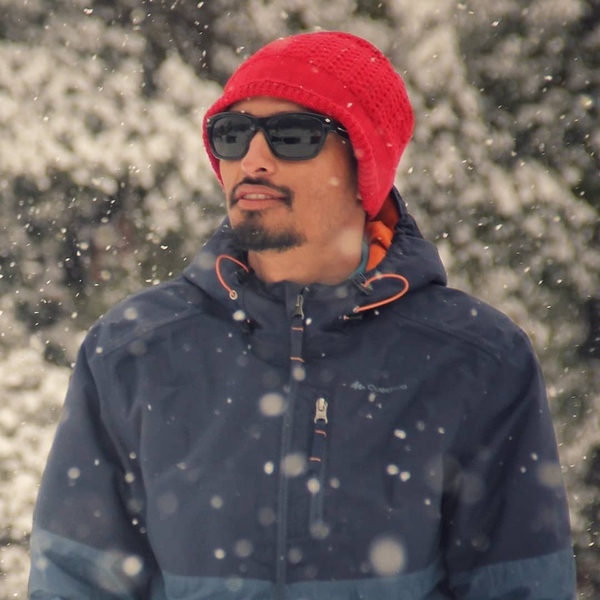 Verified Host
Logout's Trusted
Traveler's Choice
We are excited to introduce our organisation TravelMite Outdoors (TravelMite), which is specialised in organising experience based Treks and Accommodation to Uttarakhand in India. We have been in the Industry for the past 4 years and our operations have been thoroughly vetted, audited and endorsed on the parameters of sustainability and excellence in operations, services and customer care. You can thus be assured that we have pledged to uphold and maintain the highest standards on the above criteria. We have had the opportunity to make over 7000+ guests experience what true adventure is. We offer multiple touch points to add value to our customer's experience.Our dedication to creating outstanding travel experiences has allowed us to build quite a fan base. The organisation and the team truly believe in providing individuals with a memorable adventure, which can be backed by our social media reviews/testimonials – Facebook, Google Review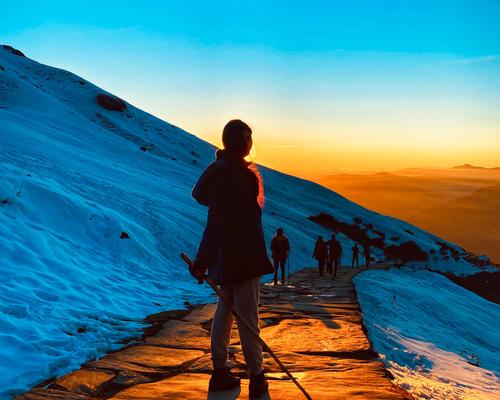 ---
---
Need Help? Directly Contact Host
Request Callback
---
Inclusions
2 Night accommodation in Swiss Camps in Chopta
Meals ( All Veg): From Dinner on Day 1 to breakfast on Day 3 ( 4 Meals in total, 2 Dinners + 2 Breakfast.
Exclusive Non-AC Vehicle dedicated for the Group during entire Tour
Vehicle type: Swift Dzire or similar
Driver Allowances, toll taxes, parking, state taxes.
First Aid Medical Kit
Exclusions
Any additional expenses such as of personal nature/medical exigency
Additional accommodation/food costs incurred due to any delayed travel
Any Airfare/Rail fare other than what is mentioned in "Inclusions" or any type of
Transportation from which is outside the itinerary
Parking and monument entry fees during sightseeing
Forest entry fees
Additional Costs due to Flight Cancellations, Landslides, Roadblocks, and other natural calamities
Any other services not specified above in inclusions

In case there is a road blockage due to heavy snowfall, the tempo traveller/car might not be able to travel further. In those cases, 4X4 would need to be booked thereon. That would be chargeable and the cost would be split and paid by the guests.

Any lunch and other meals not mentioned in Package Inclusions. (Lunch can be included at an extra cost of 150/- per person per meal)
THINGS TO CARRY
1. Sunglasses - Sunglasses are to prevent snow blindness. A small overexposure to direct sunlight on snow can lead to snow blindness (about a half hour's exposure). That's because fallen snow is like thousands of mirrors that reflect direct UV rays. So you need sunglasses with UV protection.
Buying Tip: Try getting sunglasses that wrap around instead of those that have openings on the side. Even peripheral UV ray exposure is not a good idea.
2. Sun Cap
3. Synthetic Hand Gloves - Get synthetic hand gloves that have waterproofing on the outside and a padded lining on the inside. If you find the combination difficult to get (not likely), wear a tight-fitting fleece hand glove inside a synthetic hand glove. Hand gloves are mandatory on this trek.
4. Woollen Cap - a woollen head cap that covers your head and ears is absolutely essential.
5. Socks - Apart from three to four pairs of sports socks, take a pair of woolen socks. Sports socks give you cushioning plus warmth. Again the mantra is to wear synthetic socks or at least a synthetic blend. Cotton socks soak in water and sweat. They are very hard to dry. As for woolen socks, they help you to keep warm and snug in the night. If you cannot get woolen socks, wearing two sports socks serves the purpose as well.
6.Power Bank ( Strongly recommended as the campsite runs on Solar energy hence is weather dependent)
7. Thermos for water
8. Medication (As per medical conditions if any and is subscribed by a doctor)
9. We are located in the middle of a wildlife Sanctuary so there are bound to be insects please try carrying an insect repellent if possible.
10.Extra cover for your electronic gear items/Valuables.
11. Quick Dry Towel/Towel
12. Torch/headlamp
13. A tiffin box with a spoon for packed lunch, we try reduced usage of plastic/paper as much as possible
14. Poncho/Rain Cover
15. Do not leave plastic wrappers(chips,chocolates etc) behind while on Trek and yes! don't forget your "Mask" of course!
---
---
Policy and Terms
We understand that plans change sometimes. If you need to cancel/reduce/amend a guaranteed reservation, please do so latest by 12 noon, 15 days prior to arrival, to avoid cancellation charges. 100% non-refundable should there be any cancellation within 15 days of arrival.

For all bookings, where the guests don't show up/ they choose to check-out early, the complete booking will be non-refundable.

Booking amount is non refundable.
No cancellations will be taken over the call or WhatsApp message. Please reply to the email of email confirmation that you have received at the time of booking regarding the cancellation.
There would be no refund provided in case there occur some problems due to government orders, harsh weather conditions, protests, landslides, or any delay due to other/any unforeseen circumstances. On the occasion of any such happenings, we have a backup plan ready most of the time and we'll be moving onto that. There are times when we would have to cancel some activities mentioned in the itinerary but it's only due to the reason that we would be bound by a circumstance that is not in our control. Any extra charges incurring because of the changes would be borne by the guests.
If a trek is called off at the last moment due to a natural calamity/unforeseen circumstances (like rain, snowfall, earthquake, landslides, strike, bandh, etc.) then the participants would be provided with a travel voucher for the same amount that can be used within 365 days of the issuance date for any package worth the same amount. (Subject to availability)
If a trek/trip has to be aborted midway due to a natural calamity/unforeseen circumstances (like rain, snowfall, earthquake, landslides, strike, bandh, etc.). In that case, no refund would be provided.
Travelmite will not bear any extra expense due to any natural calamity/unforeseen circumstances (like rain, snowfall, earthquake, landslides, strike, bandh, etc.).
Terms and Conditions
IDENTITY PROOF
In keeping with Government regulations, we request all guests (on single/double/triple occupancy) to carry a photo identity to present on check-in. Foreign nationals are required to present their valid passport and visa. Indian nationals can present any government issued photo identity address proof card e.g. driving license, passport, Aadhar card or voter's ID card. PAN Card will not be accepted as the above. Also do keep handy proof of corporate affiliations, if you have made a corporate booking.
NO SMOKING
The Government of India has introduced a 'no smoking' rule for hotels, restaurants and all public places. This means smoking is prohibited in all parts of the campsite except in designated areas.
PAYMENT POLICY
50% payment at the time of Confirmation. Balance payment upon Boarding.
Please note that the room/s and the rate will be confirmed subject to availability, at the time of receipt of the advance deposit details.
CHECK-IN/CHECK-OUT POLICY
Our check-in time is 2 pm and our check-out time is 10 am.
Check-in Early/Late, or sleep in and check-out late, we will be happy to oblige however is subject to availability. Both may entail a nominal additional charge.
If the behaviour of any guest is likely to cause distress or harm to them or others, our member of staff or other team members, our on ground Guide/Staff reserve the right to terminate their tour at any time and they will have to make their own arrangements; we will not be liable for any expenses incurred as a result. We will not entertain any claims arising in case such actions are taken by our staff.
The guests are responsible for their belongings. For any loss/damage Travelmite/third party will not be held responsible.
MANDATORY DOCUMENT
Since we do cater treks i.e Chopta- Chandrashila, The WAIVER OF LIABILITY, RELEASE OF LIABILITY, and ASSUMPTION OF RISK AGREEMENT form needs to be duly signed by each guest before the commencement of any trip.
More From TravelMite
From [[price.price | number:0]]/ per person
From [[event.price | number:0]]/ per person
Free
[[ batch.startdate|date]] [[batch.soldout ? ' (Soldout)':'']]