Jim Corbett National Park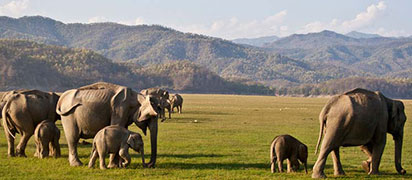 About This Place
James Edward Corbett CIE VD (25 July 1875 – 19 April 1955) was a British-Indian hunter and tracker-turned-conservationist, author and naturalist, who hunted a large number of man-eating tigers and leopards in India.

Corbett held the rank of colonel in the British Indian Army and was frequently called upon by the government of the United Provinces, now the Indian states of Uttar Pradesh and Uttarakhand, to kill man-eating tigers and leopards that were preying on people in the nearby villages of the Garhwal and Kumaon regions.

He authored Man-Eaters of Kumaon, Jungle Lore, and other books recounting his hunts and experiences, which enjoyed critical acclaim and commercial success. Later on in life, Corbett became an avid photographer and spoke out for the need to protect India's wildlife from extermination and played a key role in creating a national reserve for the endangered Bengal tiger, by using his influence to persuade the provincial government to establish what was called Hailey National Park. In 1957, the park was renamed Jim Corbett National Park in his honour. Corbett has the glory of being India's oldest and most prestigious National Park.
Location
Edit if you have been here..
Open Timings
Open: 15th November to 30th
Closed: 1July to 31cOctober
Govt. Guidelines
Edit if you have been here..
Languages Spoken
Let us know if you have been here..
Best Access
Airport : Pantnagar
Railway station : Ramnagar
Bus stand : Ramnagar
Popular Route
Road: Delhi->Moradabad->Jim Corbett
Rail: 10 KMs from Ramnagar Station
Air: Taxi can be booked from Pantnagar Airport.
Upcoming For You
Upcoming Experiences
---
There are currently no tours on this place but you can check the upcoming events