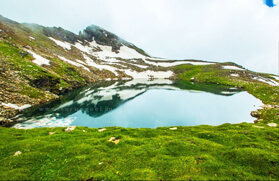 About This Place
Kashmir Great Lakes trek is one of the most beautiful Himalayan trek that truly portrays the grandeur of Kashmir. With it's brilliant cyan skyline, grasslands sprinkled with vibrant wild flowers, seven grand glacial lakes in various hues of blue and the thud of three mountain passes; this trek is painted with scenary that puts you in a state of constant awe. It is the perfect destination for the photographers with every single sight worth capturing.
The trail constantly runs on the high altitudes for seven to eight days, with nearly 8 hrs of trekking everyday, which can be streneous.
The avg. temperature during day time is 15°C to 10°C while at night is 0°C to -3°C.
Location
Kashmir, Valley of Kashmir
Open Timings
Let us know if you have been here..
Govt. Guidelines
For Trout fishing in the lakes one needs permission from Srinagar.
Best Access
Airport : Srinagar Airport
Railway station : Srinagar
Bus stand : Sonamarg, Naranag
Popular Route
Delhi → Srinagar → Sonamarg

Delhi → Srinagar
Via Road : The distance from Delhi to Srinagar is 800 km and travelling via this route is generally not preferred as it takes around 14-16 hrs to reach via road.

Via Train : There are no direct trains for Srinagar from Delhi, the best option is to board a train going to Jammu and then take a bus / cab to Srinagar that is easily available. Srinagar is 260 km from Jammu and takes around 6 hrs to reach there. Trains for Srinagar are available from Jammu station.

via Flight : There are direct flights from Delhi (DEL) to Srinagar (SXR).

Srinagar → Sonmarg
Via Road : Sonmarg is 80 km from Srinagar and takes around 2 hrs to reach there. Many options are available from Srinagar both by bus and by shared cabs.

Via Train : No options available.

Via Flight : No options available.
Upcoming For You
Upcoming Experiences
---
There are currently no tours on this place but you can check the upcoming events