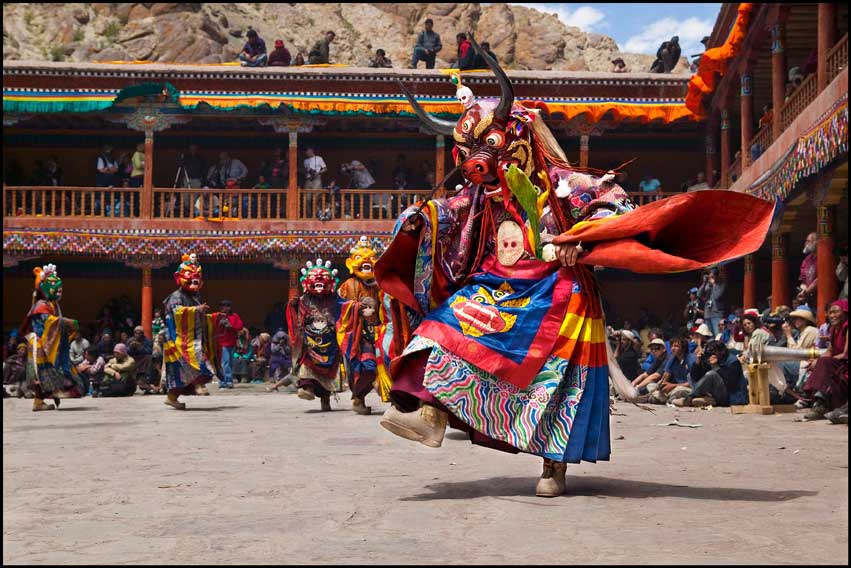 About This Place
District Leh of the state of Jammu and Kashmir is the 2nd largest district in the country after Kutch (Gujrat) with an area 45652 Sqs Kms in terms of area. It is bounded by Pakistan occupied Kashmir in the west and China in the North and the East and Lahul Spiti of Himachal Pardesh in the south east.

Leh (Ladakh) was known in the past by different names. It was called Maryul or low land by some Kha- chumpa by others. FaHein referred to it as Kia-Chha and Hiuen Tsang as Ma-Lo-Pho. It is said that the first Immigrants to this land appears to have been the Brokpas from Dadarstan who inhabited the lower reaches of the Indus Valley popularly known as Sham. Another wave of immigrants who came from karja (Kulu) were the Monsan Aryan type who first settled in Gya and spread to Rong, Shayok, Sakti Tangtse and Durbuk, the area extending from Martselang to Khaltsi. Gia was the seat of government of the first Mon ruler having been elected by the whole tribe. He was known by the title Gyapacho, derived from his being the master of Gia. The ancient inhabitants of Ladakh were Dards, an Indo- Aryan race. Immigrants of Tibet, Skardo and nearby parts like Purang, Guge settled in Ladakh, whose racial characters and cultures were in consonance with early settlers. Buddhism traveled from central India to Tibet via Ladakh leaving its imprint in Ladakh. Islamic missionaries also made a peaceful penetration of Islam in the early 16th century. German Moravian Missionaries having cognizance of East India Company also made inroads towards conversion but with little success.

In the ancient times the present Leh district was a part of Greater Ladakh spread over from Kailash Mansarover to Swaat (Dardistan). The Greater ladakh was neither under the Domain of Tibet or its influence. Not much information is available about the ancient History of Ladakh. However, reference about the place and its neighbourhood in Arab, Chinese and Mongolian histories gives an idea that in the 7th Century A.D fierce wars were fought by Tibet and China in Baltistan area of the Greater Ladakh in which deserts and barren mountains of Ladakh was turned into battle fields for the warring armies.
In the 8th century A.D Arabs also jumped into these wars and changed their sides between China and Tibet. Around this period, the ruler of Kashmir, Laltadita conquered Ladakh. In the 8th Century A.D itself, The Arabs conquered Kashghar and established their control over Central asia which embraced Islam in the 9th century A.D and thus a buffer state came into being between Tibet and China, terminating the hostilities between the two warring countries. The greater Ladakh also fell into peices.
In the 10th Century A.D Skitday Nemagon, along with a couple of hundred men, invaded Ladakh where there was no central authority. The Land was divided in small principalities, which were at war with each other. Nemagon defeated all of them and established a strong central authority. Those days Shey, was the capital of Ladakh became to be known as Nariskorsoom, a country of three provinces. The present Ladakh was divided into two provinces while the third comprised western Tibet. The area of western Tibet slipped away from the kingdom but was reunited in 16th Century A.D. by the famous Ladakhi ruler Sengge Namgyal. Ladakh was an independent country since the middle of 10th century.
In 1979 when the reorganization of the districts was carried out, the Ladakh district was divided into two full fledged district of Leh and Kargil.
Location
Ladakh, Jammu and Kashmir
Best Time to Visit
Preferred : May - August
Srinagar – Leh highway opens by the middle of May,
Manali – Leh highway opens in June

Summer (April-June) - This time of the year, Ladakh region is comfortable and very beautiful, this is an ideal time for family trips in Ladakh and is very beautiful, Ladakh at this time has just woken up from its long winter sleep.

Monsoon (July-August) : This span of months, rains and cloudbursts are expected and the weather starts becoming a bit harsh by the end of August. Though it is still open for tourists and people do visit.

Early Winter (September-October) : This is the time for the trekkers when winter starts to seep in and the snow starts to become aptly solid for the trekkers. Most of the treks like Stok Kangri and Nubra Valley trek, Kashmir great Lakes are conducted this time.

Winter (November-March): The winters in Ladakh are not fit for ideals tourists who want a leisure time, the roads are blocked by snow and shut down by the officials, the only means of travel is by Air.
Open Timings
Leh is generally visited all round the year except in winters due extreme temperatures and heavy snowfall.
Govt. Guidelines
1. Manali – Leh Highway usually opens up by last week of May or first week of June, but it only opens for general public use when BRO approves it.

For driving bikes or personal vehicles, you will need a permit, for applications visit link : "http://admis.hp.nic.in/ngtkullu/". There are two types of permit :

1. Rohtang Pass Only : This is for tourists who want to go only till Rohtang Pass. This Permit is issued on daily basis and is issued as per the daily quota of 400 Diesel vehicles and 600 Petrol vehicles. This include state transport buses, private cars and taxis. Penalty is imposed on those using this permit beyond Rohtang.

2. Rohtang Pass and beyond : This type of permit is issued to vehicles to travel beyond Rohtang. This Permit is issued on daily basis without any quota.

Once, you apply for the permits, it will be confirmed within a week and a tourist can show an SMS sent by the authorities at the Gulaba barrier.
Best Access
Airport : Leh (IXL)
Railway station : Jammu Tawi
Bus stand : Leh
Popular Route
By Road : The 474 KM long Manali – Leh Highway usually opens up by last week of May or first week of June.
Manali --> Rohtang La --> Keylong --> Leh

By Bus : There are two options for bus made available by the Himachal Pradesh State.
1. Himachal Pradesh Tourist Development Corporation (HPTDC) service : This is a luxury bus service recently started by the govt. especially for tourists and stops at all the major sightseeing spots in the route. This is a direct bus srvice from Manali to Leh and stops at Keylong for an overnight stay, the accomodation charges are included in the bus fare.
Cost : Rs. 2900, includes the stay at Keylong.
Travel Time : 2 days
Timings : Leaves Manali at 10 a.m.
Booking : Visit http://www.booking.hptdc.in/. for online booking or book at Manali bus stand.
Note : This bus only runs if certain number of seats are booked, else the bus is cancelled.

2. Himachal Road Transport Corporation (HRTC) bus service : This is the standard bus service by the govt. and is not a direct service to Leh. The journey breaks at Keylong, one has to first buy tickets from Manali to Keylong and then board another bus from Keylong to Leh. The bus does not anywhere for any sightseeing.
Cost : Rs. 700, does not include stay at Keylong.
Manali to Keylong : Rs. 500
Keylong to Leh : Rs. 200
Travel Time : 2 days
Bus Timing : Buses start from 4 a.m. till 1 p.m. at Manali for Keylong.
Booking system : Just reach Manali bus stand and book on spot. No online option as of now.

This route is also used by the bike enthusiasts to travel from Manali to Leh, one can also use a shared cab or taxi from Manali till leh. Plenty bike and cab rentals are available both at Leh and Manali.

By Air : There is a direct flight from Delhi to Leh.
Upcoming For You
Upcoming Experiences
---
There are currently no tours on this place but you can check the upcoming events