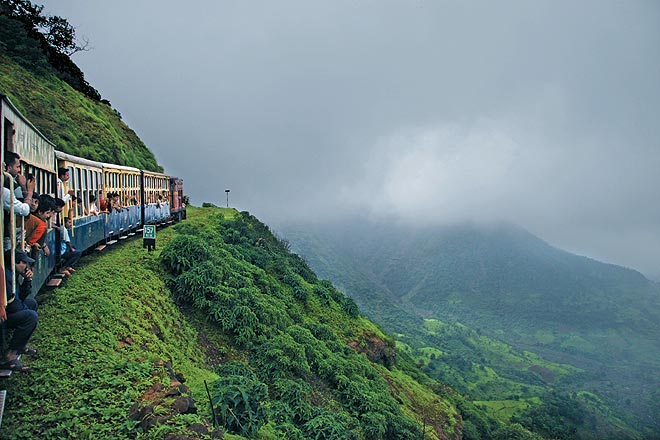 About This Place
Matheran is the smallest hill station in India. It is a located in the Rajgad district of Maharashtra, and is widely visited by people from across India.
Matheran meaning 'forest on top', was discovered by Hugh Poyntz Malet, the then district collector of Thane district in May 1850. Lord Elphinstone, the then Governor of Bombay laid the foundations of the development as a future hill station. The British developed Matheran as a popular resort to beat the summer heat in the region.
It has been declared as an eco sensitive zone by the Indian government and the only form of automobile allowed in Matheran is an ambulance operated by the Municipality. No private automobiles are allowed. Within Matheran transport facilities available are horses and hand-pulled rickshaws.
Only one toy train runs inside the small town connecting Neral to Matheran. Toy Trains journey takes around 281 thriller zigzag turns (ghat) from Neral to Matheran hill top.

The Matheran Railway is a small line of 2 ft. gauge constructed in the year 1907 and being rewarded World Heritage in by UNESCO. It's mode of transport to reach the plateau top in the near vicinity of the city of Mumbai. This railway is known as matheran toy train. Later the special Toy Train has honored by the name "PhulRani".

There are a lot of Parsi bungalows. Beautiful old British-style architecture is preserved in Matheran. The roads are not metalled and are made of red laterite earth.
Best Time to Visit
Edit if you have been here..
Open Timings
Edit if you have been here..
Govt. Guidelines
This is an eco-sensitive zone and automobiles are strictly banned inside Matheran.
Best Access
Airport : Mumbai, Pune
Railway station : Neral
Bus stand : Dasturi Naka Bus Station
Popular Route
By Rail :
Mumbai --> Neral :
From Mumbai CST, only a few of the Pune expresses stops at Neral Junction, including the Deccan Express and the Koyna Express. Most (but not all)of expresses from Mumbai stops at Karjat further down the line from Neral, from where you can backtrack on one of the frequent local trains. Alternatively, take a local Karjat bound train from Mumbai CST and get off at Neral.

Pune --> Neral :
From Pune take a one of the few Mumbai bound expresses that stops at Neral (such as the Sahyadri Express) or one of the expresses which stops at Karjat and then get a local train from there up to Nerul.

Neral --> Matheran
Every year in the monsoon the toy train is completely not running for 4 months starting from June to October.
The toy train can only be booked in advance from Mumbai or Pune which is a good idea in the high season (no reservations are accepted at Neral or Matheran but tickets go on sale 45 minutes before departure).
Train No. Neral Aman Lodge Railway station, Matheran
52101 7:30 am 9:12 am
52103 9:00 am 10:46 am
52105 10:30 am 12:11 pm
52107 12:00 noon 1:46 pm

By Road :

Mumbai --> Chouk --> Neral --> Matheran
While going to Matheran by road, take Mumbai-Pune Highway(NH-4) upto Chouk Village and turn to Karjat road. From Karjat, the same road goes to Dasturi Naka, i.e. entrance of Matheran via Neral.


Pune --> Chouk --> Neral --> Matheran

Set off towards Mumbai on the Pune-Mumbai expressway. Get off the Pune-Mumbai Expressway at the Khopoli exit after passing Lonavla/Khandala and get onto the old Pune-Mumbai road. Approximately 18 km later, you turn right as per a big green sign, in Chouk town. Follow the signs from then on.

By Foot :

Dasturi gate (Matheran car park) is approximately 8 km from Neral junction and a beautiful landscape can be seen from Neral itself. Streams cut through the farms. One can follow the road or walk through the countryside along the stream and take the trail used by localities. There aren't direction signs along the trail, so you'll have to take directions from localities or trek keeping the road in sight.
Upcoming For You
Upcoming Experiences
---
There are currently no tours on this place but you can check the upcoming events