Navegaon-Nagzira Tiger Reserve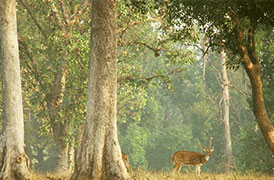 About This Place
Nagzira wildlife sanctuary is located between Bhandara district and Gondia district of Maharashtra. In 2012, it was merged with Nawegaon Santuary for the Saving Tiger Project. The name, Nagzira is believed to be derived from the fact that there is a naag (snake) temple which lies in the middle of Nagzira. Zira is derived from ziri which means a perennial source of water.
It is often addressed as a green oasis of Vidarba region.
Best Time to Visit
Best time for tiger sighting is from March to June.
Open Timings
Open: 1 October to 15 June.
Closed: 16 June to 30 September

Morning Safari: 6 to 9:30
Evening Safari: 3 to 6:30
Govt. Guidelines
Bookings for the safari should be done.
No littering during Safari.
No music and noise during Safari.
Languages Spoken
Let us know if you have been here..
Best Access
Airport : Nagpur
Railway station : Gondia
Bus stand : Sakoli
Popular Route
By Air: Nagpur is the nearest airport. From there, a cab/taxi can be booked. Budget travellers can opt for public transport till Sakoli.

By Rail: Nearest railway stations are ;
a) Gondia 25 km
b) Bhandara Road 50 km
c) Soundad 20 km
d) Tirora 20 km

By Road: Nagzira wildlife Sanctuary is situated only 22 km. away from Sakoli on the National Highway No. 6 (Bombay – Calcutta) which passes through Sakoli. The sanctuary is situated at the distance of about 60 km from District H. Q. Gondia and 120 km. away from Nagpur.
Upcoming For You
Upcoming Experiences
---
There are currently no tours on this place but you can check the upcoming events