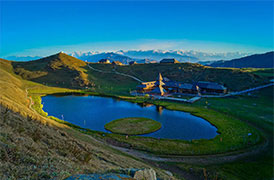 About This Place
If you are looking weekend trek with family, this is the perfect destination for you. The trek is simple and beautiful.
The trail passes through villages, a forest and multiple rivulets that adds to the thrill of the trek.
On the top is the lake Prashar, regarded as a sacred lake where sage Prashar had once meditated. On the side of the lake is the beautiful Prashar Temple. This wooden temple has a pagoda style of architecture with intricate carvings of animals and serpents. It is made of deodar wood. Pilgrims from India and across the world throng this place particularly during the annual festival held in the month of June. The exact history of the Parashar Temple is unknown, but according to folklores, it took around 18 years to complete its construction. Many also believe that the architecture belongs to that of the 14th century and was commissioned by Ban Sen, the king of Mandi.

The top gives you a majestic view of the Dhauladhar Range, Pir Pinjal and Kinaur Range.
Location
Prashar Forest, Himachal Pradesh
Open Timings
Let us know if you have been here..
Govt. Guidelines
Edit this if you have been here
Languages Spoken
Let us know if you have been here..
Best Access
Airport : Bhuntar Airport (KUU), Kullu
Railway station : KIRATPUR SAHIB Summer Hill (SHZ), Shimla
Bus stand : Mandi
Popular Route
Delhi/Chandigarh → Mandi → Baggi Village

Delhi → Mandi :
Via Road : Mandi is 480 Km from Delhi via road and nearly takes 8 Hrs to reach here, there are multiple bus facilities from all major ISBTs from Delhi.

Via Train : The alternative to reach Mandi from Delhi is to travel by train up to Kiratpur Sahib by Delhi-Una Himachal express (Train number 14553). It takes approximately 3.5 hrs to reach Mandi from Kiratpur by road. The Kiratpur Sahib railway station is very small and a bit far from the bus stand.

Via Flight : Mandi has no airport, the nearest airport is at Kullu (KUU), the distance from Kullu to Mandi is 90 km via road and takes roughly 3 hours to reach.

Mandi → Baggi Village
Baggi village is hardly 7 km from Mandi and is easily accessible.
Upcoming For You
Upcoming Experiences
---
There are currently no tours on this place but you can check the upcoming events